Welcome! Browse through our passions: Steel and Technology!

Technological Solutions
Cave's technicians develop customers projects with 3D software in close cooperation with their engineers and with detail manufacturing cycles.

Welding
Welding processes meet rigorous customer demands of qualification and are certified according to International standards (ISO, ASME,EN, BS, AASHTO).

Machining
We carry out high-precision machining of middle-sized and largesized parts with continuously updated technologies, modern machine tools and a well-equipped warehouse.

Mechanical Assembly
Precision assembly is carried out by our high-qualified staff, with experience in a wide range of applications, such as gas and steam turbines blading, hydraulic cylinders, turnkey plants.

Painting and Anticorrosion treatments
Our paint shop experts have consolidated experience in corrosion protection systems and use only high-quality machines and equipments.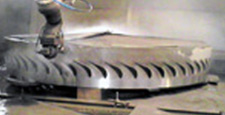 Special Processes
We have strong experience in the management of different special processes that we purchase from qualified partner companies: oxycutting, laser cutting, water-jet cutting, EDM, cold and hot stamping, hydroforming operations, thermal treatments and special coatings.
Contact us for a quote now!
Use this page to send your request.
Recent projects
Some of our Customers